MEGVII Automation & Robotics, an AI company that understands logistics the best, announces it will be exhibiting at LogiMAT 2023, held from Apr 25 to Apr 27 in Stuttgart, Germany, at booths #1OG82 in Hall 1 Gallery.
They launched a new generation 3D Pallet Shuttle System in 2022. The unique design distributed control architecture and intelligent software empowered by Megvii AI platform make this system representative of the new generation of pallet shuttles. A half year after the launch, about 500 units were implemented worldwide.
They will showcase this new generation pallet handling solution, a 3D pallet shuttle system in Logimat and demonstrate how to increase capacity, improve space utilization, reduce energy consumption and CO2 emissions and be more productive. The company also will share how its automated solutions are already helping significant players in the cold chain industry solve their toughest intralogistics challenges.
About the 3D Pallet Shuttle System
Stacker cranes have dominated pallet storage for many years; the system is more rigid and covers more space in the warehouse; the emergence of the 3D pallet shuttle system makes pallet automation a flexible and scalable option so that every warehouse can be automated. A variety of industry customer around the world also accepts Megvii's 3D pallet shuttle system.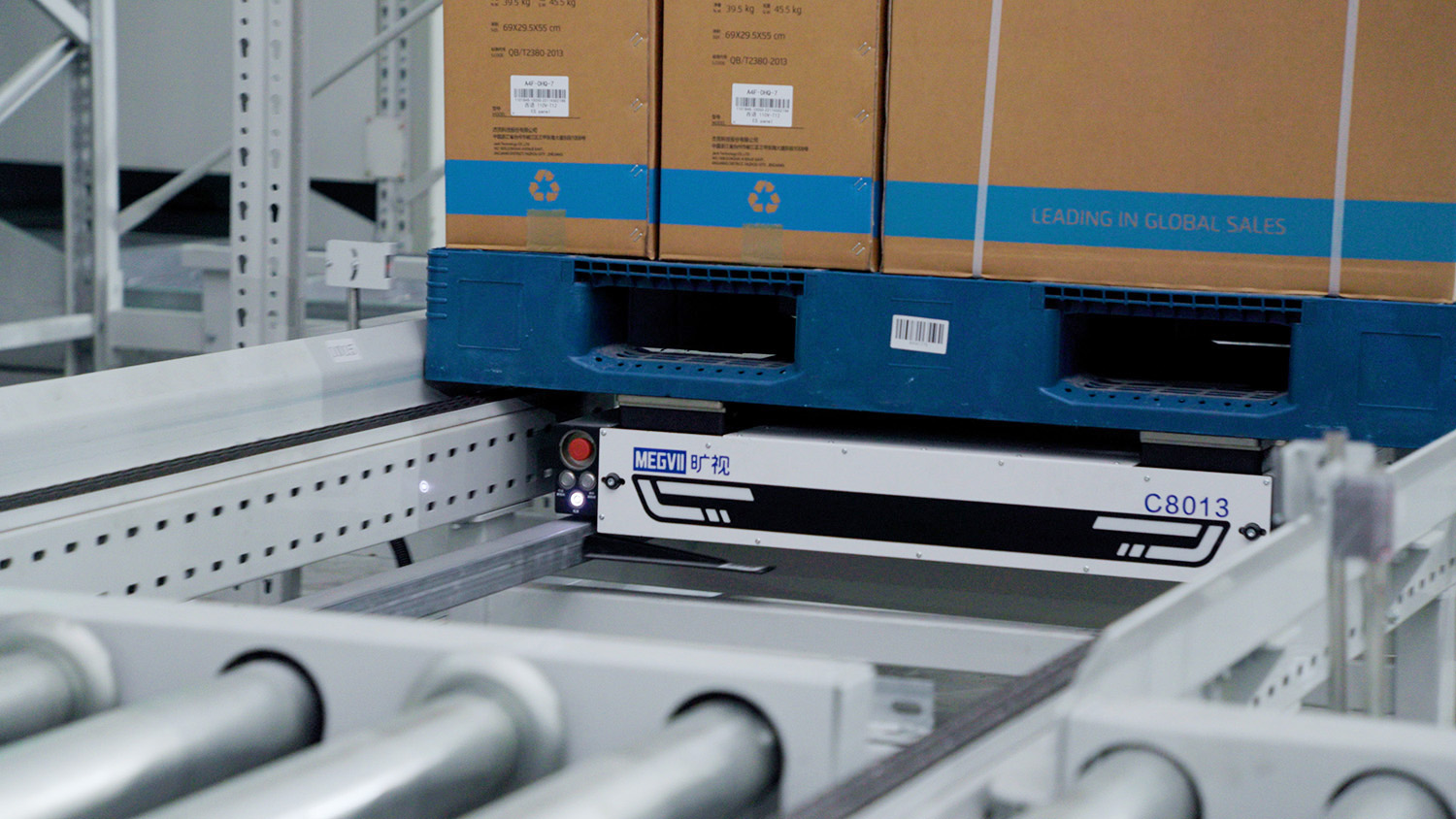 The 3D Pallet Shuttle System is a dynamic system; the critical part of the system is the 3D pallet shuttle, which can move freely inside the racking in both directions. The system's efficiency can be increased by just adding a number of the 3D pallet shuttles. The distributed control architecture provides system redundancy and prevents the whole system down in case of any single shuttle problem, acting as a sort of fail-safe in the event of system breakdown. The core strength of Megvii lies in the algorithm, which supports the large-scale dispatch of the 3D Pallet Shuttle system. It's proven that Megvii HETU can dispatch hundreds or thousands of shuttles to work together and can plan the optimal path for each shuttle to improve the stability of robot operations and the efficiency of inbound and outbound.
About MEGVII Automation & Robotics
Megvii Automation and Robotics is customers' trusted AI+ logistic partner. With the strategy of "Supply Chain IoT", Megvii Automation & Robotics creates AIoT software and hardware integrated products and innovative "3A smart material handling solution" (AS/RS + AMR + AI), which are applied to three scenarios of an intelligent micro fulfillment center, smart warehouse and smart industrial park, and flexibility of the overall supply chain.
MEGVII Automation & Robotics has been maintaining a high growth rate. Based on 16 branches at domestic and abroad, MEGVII Automation & Robotics has implemented projects for more than 20 global 500 customers and more than 200 commercial customers. The projects are in many countries and regions, such as China, Japan, Singapore, Thailand, UAE, etc. The industries cover new energy, chemical fiber spandex, medicine, footwear, manufacturing, food cold chain, etc. For more information, visit en-robotics.megvii.com.