Logistics is a basic, strategic and pioneering industry of the national economy. With the national goal of building a new development pattern, the construction of modern logistics system has become an important strategic task. It is predicted that by 2025, the market size of China's intelligent logistics will exceed one trillion yuan.
Recently, NetEase Media Technology Research Institute relaunched an industry documentary "NetEase Weekly". The first episode titled "The National Competition of Smart Logistics". Through researching and interviewing top industry experts, famous industry scholars, and founders of leading enterprises, etc., it jointly focuses on the development of production logistics industry in large countries and explore the cutting-edge technology and development path of smart logistics. Tang Wenbin, co-founder and CTO of Megvii, as a representative of AI technology companies, shared Megvii's deployment and consideration in the field of smart logistics.
As a practitioner and leader in AI industry, Megvii focuses on IoT, actively practices AIoT scenarios and gradually builds up a complete AIoT product system and solution. The supply chain IoT with logistics and warehousing is one of the three core tracks Megvii insists on for a long time.
Tang Wenbin said that the purpose of logistics development innovation is to achieve high throughput, low latency and low cost, and to deliver goods from the production end to consumers. In smart logistics, scalability, more flexibility and rapid deployment is a future trend.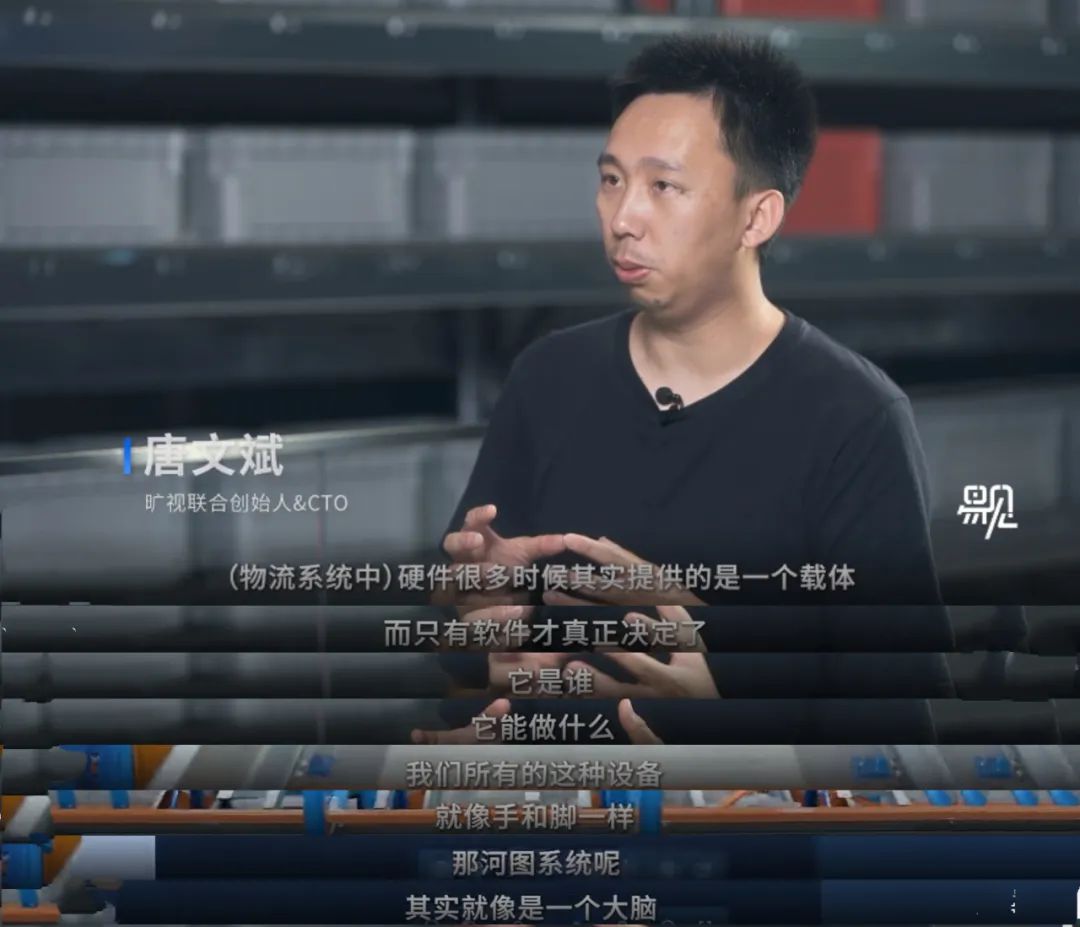 "Hardware is the arms and legs, software is the brain. The only way to achieve maximum efficiency is to collaborate both." Tang Wenbin indicates that the hardware of logistics system often only provides a carrier, while the software defines 'who it is' and 'what it can do'. Thus, the product value of "algorithm-defined hardware" proposed by Megvii is also applicable in logistics. In other words, by using different algorithms to achieve different capabilities from a single entity.
Talking about the level of China's logistics technology in the world, Tang Wenbin believes that in many aspects, China's technology is at the forefront of the world. For Megvii, it has been solving more challenges, such as redefining the usage scenario of 3D pallet shuttle. Megvii hopes to find an optimal ROI product and solution for customers.
Based on the accurate insight of logistics field and its leading advantages in artificial intelligence, Megvii has successfully built AIoT All-in-one ComputerAIoT and innovative "3A Intelligent Solution" (AS/RS+AMR+AI), which are widely used in pharmaceutical, shoes & clothing, manufacturing, chemical fiber, new energy and other industries. It helps enterprises to transform and upgrade with digital intelligence, and also plays a model benchmark to promote the high-quality development of the whole logistics industry.
In the future, Megvii will practice the core strategy of AIoT for a long time, adhering to the value proposition of "algorithm-defined hardware". Through evolving algorithm capability and software-hardware solutions, Megvii actively plays its own advantages in the field of supply chain IoT and promotes the innovation of artificial intelligence scenarios. Eventually it will accelerate Chinese development a country with powerful logistics!