In recent years, a series of policies for the development of the digital economy have been introduced intensively, which is driving the "integration of digital and real" to the fast track.
Since 2017, the "digital economy" has been included in the government report for the sixth time. The digital economy is becoming a new engine for China's high-quality economic development, and the "integration of digital and real" is becoming a "need" for every industry.
AI-helped reality gets repeated attention as this tech company is reported several times
At present, digital technology is accelerating innovation and increasingly integrated into all areas of economic and social development. At the same time, labour shortage and rising labour costs are becoming increasingly prominent, and the demographic dividend is changing to a technological dividend. How digital technology can empower traditional industries to transform and upgrade has become a hot topic of concern from all walks of life.
Recently, CCTV Finance Channel's "Find the Top 100, See China" column went to Xinchang, Shaoxing City, Zhejiang Province, to show the power of science and technology behind the transformation and upgrading of real enterprises.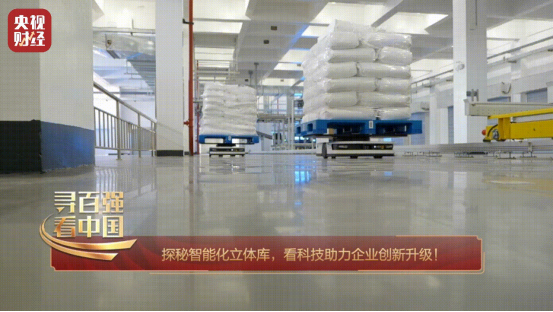 During the programme, Megvii Technology's "intelligent AS/RS" was praised by CCTV for its intelligence, convenience and efficiency, which sparked widespread attention. The report was read 63+ million times and discussed 22,000 times, and media microblogs such as CCTV Finance, Hebei Youth Daily, City Evening News and Popular.com interacted and forwarded it.
This is not the first time that Megvii Technology has been featured on CCTV. Previously, Megvii's intelligent 3D pallet shuttle was featured in the news broadcast. This time, the 12cm car that made it to the top search was also the 3D pallet shuttle.
Apart from CCTV, a number of party and government media such as China Fortune Group under Xinhua News Agency, Science and Technology Daily and Beijing Business News have also recently paid attention to Megvii's empowering role in promoting the integration of digital and real. They have reported its sinking of smart scenes and upgrading of county economies in this regard.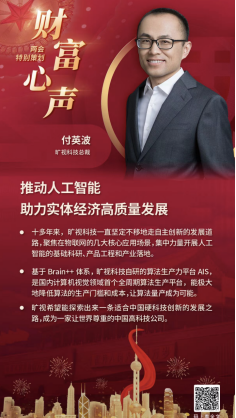 There is no shortage of technology companies in the digital economy, so why has Megvii Technology attracted so much attention? What kind of technological momentum is behind the transformation and upgrading of these real companies in the report?
Adhering to independent innovation, Megvii AIoT develops with with core technology research system
It is understood that Megvii was founded in 2011, which is an artificial intelligence company focusing on IoT scenarios.
As a pioneer, explorer and practitioner of AI industry, Megvii has built a "2+1" AIoT core technology research system in the past 12 years. The so-called "2+1" AIoT core technology research system is the AI technology system with "basic algorithm research" and "mass production of algorithms at scale" as the two cores. The IoT technology system (including AI sensors and AI robots) is based on "computational photography" and "algorithm-defined hardware". This whole set of research system covers the whole chain of AI implementation from basic research, algorithm production to software and hardware integration products, accelerating the integration of AI scenarios and commercialisation.
addition, Megvii has also developed its own AI productivity platform Brain++ to fundamentally improve AI efficiency, which integrates algorithms, computing power and data capabilities to realize the whole process and scale supply from algorithm production to application. At the same time, Megvii also released its algorithm production platform AIS (AI Service), making "algorithm mass production" truly possible. In addition, Megvii has also open sourced its core deep learning framework MegEngine, which makes it one of the very few companies in the world with an open source deep learning framework.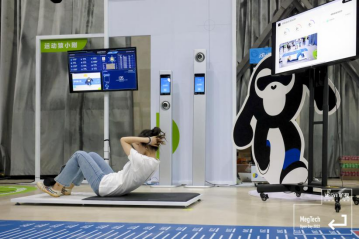 Megvii Sports Ape Xiaogang products are generated by Megvii AIS algorithm production platform
Thanks to Megvii's own superior technology strength, Megvii products cover many industries such as logistics, sports and energy, helping enterprises in various industries to transform and upgrade. With the empowerment of Megvii's AI technology, more and more real enterprises are moving towards the road of "digital-real integration", realizing the transformation from "demographic dividend" to "technological dividend".
The Xinhecheng factory previously reported by CCTV Finance is a typical case of Megvii using AI to empower the logistics industry.
With the help of Megvii 3A (AS/RS+AMR+AI) intelligent logistics solution, XinheCheng with the intelligent AS/RS has increased the space utilization rate by 3 times, saved 35% of electricity and improved the work efficiency by more than 50%, compared with the previous manual warehouse.
Tang Wenbin, co-founder and CTO of Megvii Technology, introduced that Megvii has created a set of process paradigm for upgrading the logistics and warehousing part of the "black light factory", which can be replicated and extended to help enterprises further reduce costs, increase efficiency, and optimize management. At present, Megvii has built more than 200 "AI+logistics" benchmark cases, with customers in industries covering food cold chain, new energy, medicine, footwear, chemical fiber spandex, machinery, electronics and electrical appliances, 3PL and other fields.
In addition to "AI+Logistics", Megvii has also innovated and expanded "AI+Sports", "AI+Chemical", "AI+Energy" and other application scenarios.
For example, in "AI+Sports", the digital product "Megvii Sports Monkey" is designed based on AI vision technology, which can be connected with school management system to realize the connection between physical education in class and sports training after class. It can record and analyze students' sports, reduce the teaching burden of PE teachers and improve students' sports performance.
In the field of "AI+energy", Megvii's intelligent detection of equipment and self-driving roadblock recognition have largely helped mine workers reduce labour time, labour intensity and underground labour, enhancing safety and job satisfaction.
At present, science and technology innovation has become the main battlefield for all countries to compete. Only playing a first step in science and technology innovation can open up new areas of development in the fierce international competition and shape new advantages.
In a recent interview with national technology media, Megvii co-founder and CEO Yin Qi spoke out as the only AI company representative. As one of the leading companies in the domestic AI industry, Megvii has the key core AI technologies firmly in its own hands, said Yin Qi, "We want to make AI applications, moreover, we want to make scientific research results that can really affect the world and cultivate a group of top local science and technology innovation talents".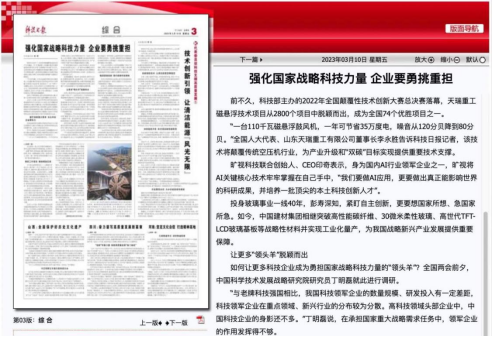 In order to turn basic scientific research into real productivity, a large number of artificial intelligence enterprises, represented by Megvii Technology are based on independent innovation, solid basic research. It seizes the high ground of the new round of technological change and takes a pragmatic stance of "going deeper and deeper" to fully echo the top-level design of "Digital China". Eventually Megvii helps build the grand blueprint of the modern industrial system with technology.
Source: China Economic Network