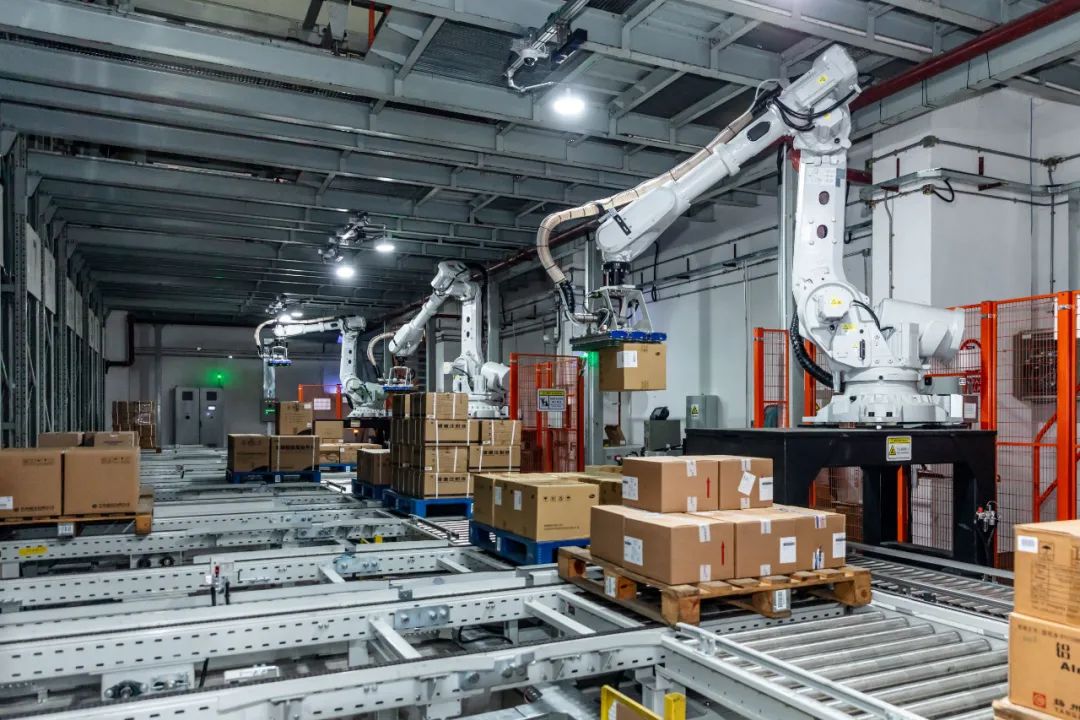 When we walk into the Sinopharm Guangzhou logistics center, there is an intelligent operation of picture into the eyes: AMR orderly shuttle, robot arm automatic demolition palletizing, AI vision rapid collection of pharmacy information.
"This automated logistics center business volume has doubled several times. If you rely solely on additional people to raise production capacity, it has reached its limitation. The digital transformation is imminent." Talking about the initial intention of intelligent transformation, Ma Jiancong, deputy general manager of Sinopharm Guangzhou Co.
In recent years, relying on Megvii's soft and hard integrated intelligent logistics solutions, Sinopharm Guangzhou Logistics Center has achieved digital and intelligent transformation without interrupting its production capacity, significantly improving circulation efficiency and effectively reducing operation costs. It has becoming a typical case of digital intelligence upgrade in the pharmaceutical circulation field.
"In the process of our cooperation with many head enterprises in the segment, we really feel that their demand for digital intelligence transformation is real." Xu Qingcai, head of logistics business division of Megvii Technology, believes that compared with ten years ago when the value of intelligent logistics was considered to be demonstration, user enterprises nowadays will calculate the detailed accounts and how much revenue the input can bring and how long it can recover the cost.


Take Sinopharm's Guangzhou logistics center as an example, Xu Qingcai revealed that by deploying Megvii 3A intelligent solution, the efficiency of the whole warehouse is improved by 25%. The cost saving is expected to reach 10 million yuan in five years. As more and more enterprises take advantages brought by digital intelligence, robots are accelerating into the logistics scene.
Concentrate on niche industries
Build benchmark cases
"Focus, focus, focus again!" During the communication, Xu Qingcai repeatedly emphasized that the key direction of Megvii's intelligent logistics business is to continue to plow deeper into the segmented industries such as food cold chain, new energy raw materials and medicine. Although the logistics business involves many industries and large transformation demand, Megvii prefers to make advantages in 2-3 niche industries first.


The choice of "focus" is the precipitation of Megvii's long-term observation and thinking. Combing through the development of Megvii logistics business, it is not difficult to find the "addition and subtraction" contained therein. When we first entered the logistics field, Megvii explored and tried in many industries and launched many products and solutions one after another. "At this stage, we will definitely go to see what logistics needs in various aspects." Xu Qingcai explained. With the passage of time, Megvii's grasp of market demand has gradually become clearer and its positioning has become more and more precise, finally locking its eyes on key industries. "A few years ago, it felt like AI technology could be applied in a very large number of places. In fact it was slapdash in every place." In Xu Qingcai's view, deepening the application is the important way to fully release the value of technology at present.
In fact, if we look at the new robots recently launched by Megvii, the tendency of its industry layout can be seen. In 2022, Megvii launched the intelligent 3D pallet shuttle. At the same time, the cold storage version which can work normally in -25℃ environment was released, and then the dustproof version was launched. Now it seems that different versions of the products are aimed at food cold chain and new energy raw material scenes respectively. The layout of industry deep plowing has quietly started.


At present, industry leading enterprises such as Wanwei Cold Chain, Zichen Technology and Xinhecheng have introduced Megvii intelligent solutions and become important partners into the new track. Megvii also hopes to make the cooperation with the head enterprises an industry benchmark and become the first choice of more enterprises.
The logistics needs of different industries are differentiated. In the view of Tang Wenbin, the logistics scene can be deconstructed by using modular thinking to find consistency in the changes.
According to Tang Wenbin, the intelligent warehouse can be decomposed into pallet unit, box unit, piece unit, etc. Each module can be productized and continuously diffracted in practical applications. Based on this deconstruction logic, Megvii focuses its R&D on the 3D pallet shuttle system, focusing on solving the pain point problems existing in the pallet scene.
The pallet shuttle is not the first one created by Megvii. In logistics scenarios, 3D pallet shuttle has been widely used for a long time. The reason why such traditional products are included in the focus of R&D is that Megvii sees the value potential of AI in it - efficient scheduling.
"In the past, pallet shuttles were defined as high-density storage and low-flow in and out, making it difficult to be efficient." Tang Wenbin explained with an example, "If you want to get the middle pallet, you need to move the outer one out first, and then move the middle one out, at this time you need one car or two or three, where to put the temporarily moved pallet, which contains a lot of optimization problems." Based on Megvii HETU software, the 3D pallet shuttle system has been given a new life. "We can achieve 600-1000 pallets per hour of incoming and outgoing traffic, making the system from only high-density storage to a more generalized pallet solution." Wenbin Tang said.
At the same time, Megvii has also redesigned and improved for the 3D pallet shuttle itself. Tang Wenbin summarized it as four points. The first is to be fast, to do the work on acceleration and running speed, whihc up to 2m/s2 and 1.5m/s respectively. The second is to be stable, to achieve positioning accuracy of ±2mm by adopting AMR positioning technology and citing end closed-loop control. the third is to be thin, to achieve body height down to 125mm and load capacity of 1.5 tons by optimizing structural design. Fourth, operation and maintenance friendly, to achieve abnormal self-healing and reduce maintenance costs.
Based on the combination of hard and soft R&D capability, Megvii gradually transforms the 3D pallet shuttle system into its own advantage. It keeps plowing into the logistics scene with the features of flexibility, low cost, easy deployment and scalability. Nowadays, the 3D pallet shuttle is more and more important for Megvii, as Tang Wenbin said: "In terms of product logic, we are now focusing on making pallets, hoping that the product can do less but do better."
Make AI better services intelligent logistic
In recent times, the popular ChatGPT has brought fire to the big model, which also makes the outside world curious as one of the four small dragons of AI. What are some new reflection in the application of new technologies?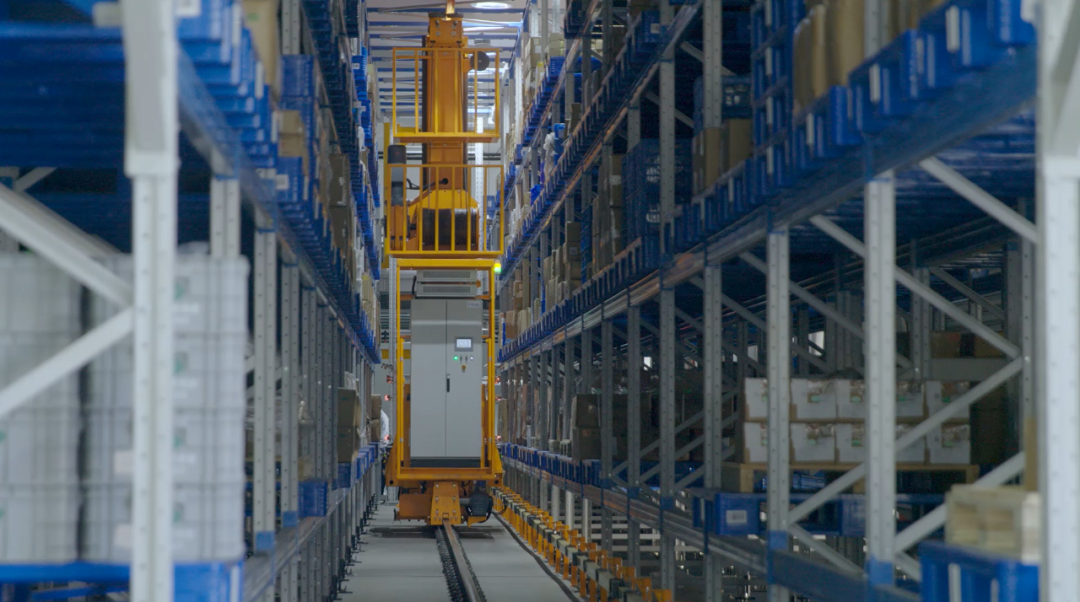 Tang Wenbin believes that the continuous development of AI technologies such as multimodal large models can effectively improve the degree of AI model intelligence while reducing the application threshold of AI in complex decision-making fields such as logistics robots. In his opinion, although intelligent technologies and products have already achieved mature applications in the logistics field, there are still many links that can be optimized in practice. Take system interaction as an example, for manual operations we can use simple words to express task requirements. However, when facing robots task instructions need to be given precisely with the help of digital information. While the process is more complicated. For example, when moving objects manually, we look for shortcuts and shortcuts, but robots often have to follow a standardized horizontal and vertical route and are not good at flexibility. Problems such as these may be solved one by one in the near future using AI.
Logistics is a typical scene linking digital technology and the physical world. Allowing AI to better interact with the physical world is the main direction of the iterative upgrade of intelligent logistics. Briefly, Megvii, as a technology company that started with AI, is exploring this!
Source: Robot Industry