Abstract: Recently, the Ministry of Industry and Information Technology and other five departments jointly released the "The action plan of digitalization to help the consumable industry (2022-2025)" (hereinafter referred to as "Action plan"), which clearly points out that "For the key consumable industry, we will build an intelligent supply chain service system with interconnection and interoperability, credible information interaction, deep collaboration in production and flexible resource allocation". In this regard, we invited Lu Jianping, head of marketing of Megvii logistics business, to share Megvii's insight of the trend of logistics and supply chain digitalization. The following is the full text:
The consumer goods industry added value, industry profits, export delivery value accounted for about 1/4 of all industries, and the number of enterprises, employees accounted for nearly 40%. It makes essential contributions for the national economic development. With the vigorous development of a new generation of digital technology, the new dynamics of the digital economy continues to strengthen. Thus, the digital development has become an inevitable trend. It is clear to implement digitalization consumer goods industry to speed up the variety, quality, branding "three products" strategy in China.
Landing value for flexible expansion, rapid deployment and optimal returns
In recent years, along with the continuous improvement of the overall consumption level of the society, there are requirements for the foreign trade, clothing, food and other consumer goods industries, such as diversification of customer demand, real-time order fulfillment and rapid business model iteration. The rise of livestream e-commerce has made consumers accustomed to the "social + retail" model, which is a test for efficiency and rapid responsiveness of the supply chain.
At the same time, the cost of urban storage continues to rise, labor shortage, the rapid growth of enterprises' own material categories and stocks--- All of them increase challenges for enterprise storage and distribution service capacity. In addition, the recurring global epidemic has made many real enterprises realize the importance of supply chain stability. Digital transformation of warehouse logistics has become a common issue for many entities.

As one of the first AI companies to deploy the logistics track, Megvii sees the prospect of AI application in the field of warehouse logistics. In the view of Lu Jianping, head of marketing of Megvii logistics business, flexibility, easy deployment and low cost are key considerations for real enterprises to upgrade their smart warehousing. The traditional solution hinders the further popularization of automated warehousing due to difficult implementation, costed investment, high requirements for future expansion. In this regard, Megvii launches 3D pallet shuttle system, aiming to build a new generation of flexible pallet logistics solutions.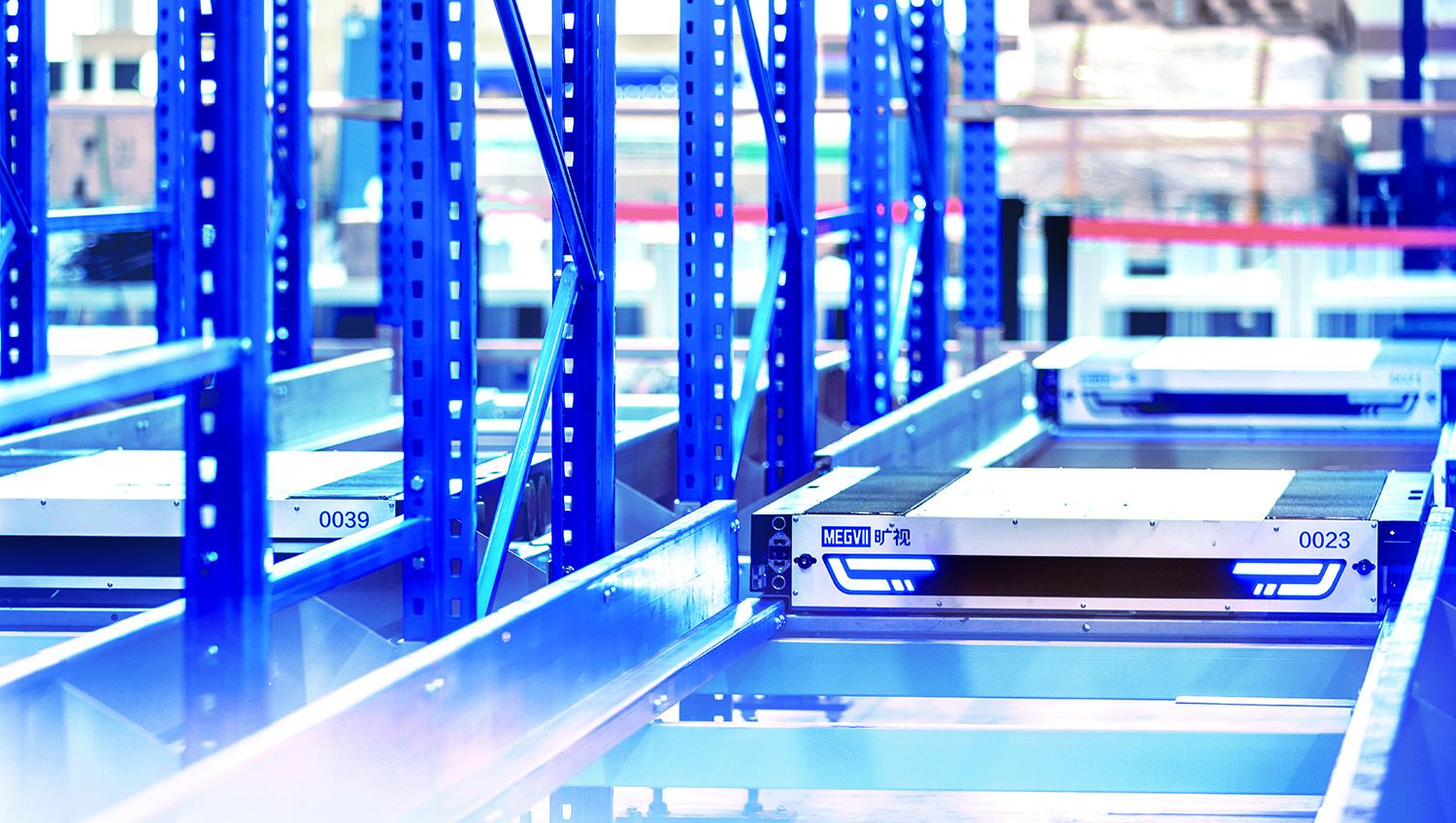 Megvii 3D pallet shuttle system

This system has features of "discrete equipment and distributed control". Users can configure and combine on demand like building blocks. Unlike traditional automation equipment which can only work in fixed path, one Megvii 3D pallet shuttle can run the whole warehouse. Moreover, customers can increase or decrease the amounts according to low and high seasons and different business stages, which is very flexible.
Lu Jianping introduced that at present, Megvii 3D pallet shuttle system has won the favor of more than 10 head enterprises in the industry, such as Jointown Pharmaceutical Group, Zichen Technology, Ganfeng Lithium Group, Bull Group, etc. Hundreds of 3D pallet shuttle have been sold in half a year.
Accelerate the transformation and upgrade, AI logistics enables AIoT All-in-one ComputerAIoT

The logistics industry, as the infrastructure connecting all links of the industry chain, has strategic importance in the implementation of "three products" strategy. This has been mentioned many times in the 14th Five-Year Plan documents that providing clear guidance for the logistics industry to upgrade its digital intelligence. In this context, the large-scale application of artificial intelligence, AIoT, robotics and other new technologies accelerate the pace of transformation and upgrading.
The field of warehousing and logistics also provides a broad landing scenario for digital technologies such as artificial intelligence. Megvii believes that the warehouse logistics system is not a simple combination of equipment, but a full digital upgrade and transformation of equipment functions with system thinking.
Empowering automated logistics equipment with AI technology and providing modular, flexible and scalable logistics solutions differentiate Megvii from traditional integrator. Driven by "technological innovation + knowledgeable team", Megvii Robotics has created a software base (intelligent logistics operating system "Megvii HETU"), 2 sets of hardware system (3D pallet shuttle, AMR) and 3A Intelligent Solution (AS/RS+AMR+AI).
According to Lu Jianping, the deep integration of AI technology and automation technology will accelerate the All-in-one ComputerAIoT, provide real value to customers, and help the high-quality development in consumer goods industry.
At this stage, there are more application of AI technology in mature logistics equipment and scenarios, which brings real value to enterprises. "AI + logistics" will not only make individual equipment and systems more intelligent, but also make the whole operation more efficient. The deep integration of AI and automation technology will change the logistics industry. We believe that the logistics industry, as a basic, strategic and pioneering industry for national economic development, and logistics enterprises, as the main body of the market, will see unprecedented development in digital transformation and digital service innovation to achieve a qualitative growth.