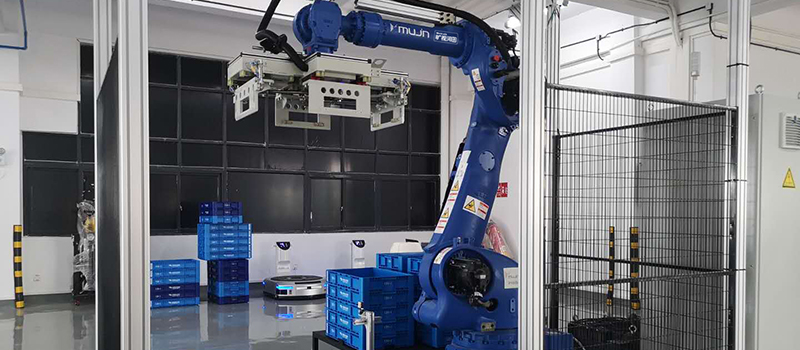 A city power supply bureau is a large-scale enterprise under the Guangdong Power Grid Co., Ltd., established in 2002. The business scope includes power grid operation and management, power plant operation and management for peak regulation and frequency regulation; power purchase and sales, power grid-crossing and transaction services, power engineering construction; operation of power-related information industry, sales of power equipment and power equipment.

The power supply bureau's original warehouse capacity utilization rate is not high, and the coordination of various links in the material management and control chain is poor, making it difficult to transport and slow to leave the warehouse. In order to meet the basic electricity demand for the operation of the social system and improve the sustainable development capability of the enterprise, the Power Supply Bureau proposed to build a smart logistics center to realize the construction needs of automation, intelligence, standardization, informatization, and unmanned operation of business management.

According to customer needs and the characteristics of logistics and warehousing in the power industry, Megvii starts from management needs, focuses on the application of business details, and plans an intelligent and replicable smart logistics center for the power industry for customers. The scheme connects various intelligent equipment through Hetu Integrated Warehouse Management System (WMS), Warehouse Intelligent Control System (HETU), Transportation Management System (TMS) and Comprehensive Monitoring and Management System (DSS) information system, so as to realize electricity saving in metering materials and heavy weight. Automated operations such as loading and unloading, storage, handling and picking of loaded materials, standard packaging materials and small materials in the warehouse, as well as visual full-cycle management.

The solution relies on Hetu's integrated AGV cargo-to-person handling, FCL robotic arm picking, zero-demolition robotic arm picking, light-duty forklift box-type cargo-to-person, AGV forklift, SLAM robotic picking, etc., to realize the automation of handling, picking, storage and other operations. Among them, Megvii innovated and applied the picking robot IWR1300, which was independently developed and produced, to realize the automatic picking of materials in a province.

In terms of the in and out of materials, the Megvii Smart Warehouse Management System can comprehensively control and operate the warehouse, and provide the logistics center with a visual full-cycle management of materials in the warehouse, thereby reducing the number of managers, improving work efficiency, and enabling warehouse management. Become simple, intelligent and efficient.
Among them, warehouse data management includes warehouse basic data management, material data management, warehouse location management, delivery point management, service provider management, vehicle management, and personnel management. The warehouse management strategy is mainly inventory warning settings, and warehouse operation management includes access and exit. Library, move library, inventory job management. By using AGV robots, this module can help companies optimize the logistics operation process from material warehousing, storage, handling, inventory to after-sales, etc. At the same time, the large screen can monitor and record the entire process from order issuance to material delivery in real time.



Based on HETU's visual editing, intelligent scheduling, all-round simulation functions, as well as various intelligent devices such as intelligent handling robots, manipulators, unmanned forklifts, radio frequency gates, intelligent charging piles, and RFID equipment tracking developed by Megvii, the goods can be imported through The outbound data analysis optimizes the storage space, reduces the cost of warehousing operation planning, implementation, operation and maintenance, improves the automation and intelligence of power logistics, and improves the overall efficiency.

In addition, Megvii has set up a "handling robot and video door docking application" specifically for the characteristics of large power supplies. Through HETU integrated handling robot and power system RFID radio frequency identification gate, the data of provincial metering materials are collected in real time during the warehousing and outbound operations, and the warehouse management system (WMS) interface is connected with the provincial metering business management system. Finally, it can realize the management and control of a power grid on the whole network materials. This is the first application in a power grid and has benchmark significance.