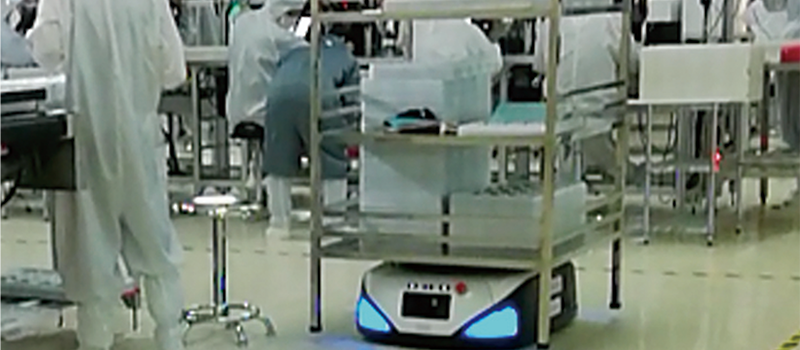 A well-known 3C company is a professional manufacturer of TFT-LCD panels, and has a professional R&D technical team for flat panel displays. Combined with the advantages of a top 500 electronics group in sales channels, a well-known 3C company will be able to provide a full range of flat-panel display application systems. Products range from large and small panels, large and small modules to terminal system products, with a complete portfolio of various products.

With the continuous development of the business, traditional labor-intensive operations can no longer meet the production needs of Innolux, and it is urgent to improve the automation level of the production line to reduce costs and increase efficiency. In this regard, the materials that customers need to transport are heavy, and the handling needs to go through stairs. Traditional labor-intensive operations have problems of high labor intensity, low efficiency, and high error rate, resulting in poor service capabilities within the power grid. At the same time, the logistics business of Innolux Co., Ltd. is not systematized and informatized, so it cannot conduct business visualization tracking, and lack data analysis for management decision-making, resulting in blind management. In this regard, a well-known 3C enterprise put forward the transformation requirements to realize the automation of material distribution and production.

According to the needs and the characteristics of the panel manufacturing line, Megvii quickly launched a point-to-point handling solution to meet the needs of customers' customized scenarios with the help of HETU's powerful data, analysis, and system scheduling capabilities. Focusing on its own core AI capabilities, it connects all aspects of production-side logistics through IoT technology to achieve a flexible, intelligent, and visualized logistics organization model in a large-scale personalized production model.


The solution deploys HETU and nearly 50 robots to realize material distribution in the factory's raw material warehouse, production line, semi-finished product warehouse, and finished product warehouse, reducing labor and operating costs; at the same time, the robot system is connected with MES to achieve production automation.

The deployment of the solution replaces labor with AGV 1:1, which saves the customer's workshop more than half of labor costs, and reduces the operation error rate by 20%. At the same time, by realizing accurate and efficient automatic material distribution and automatic production, it can meet the needs of industry development and enterprises to carry more business, improve economic benefits, and provide a good reference and transformation paradigm for the intelligent transformation of enterprises in the field of industrial manufacturing.