The growth in e-commerce and online grocery shopping has driven demand for cold storage facilities to store and distribute perishable goods, such as food and pharmaceuticals.
To meet this demand, companies are turning to automation to improve the efficiency and reliability of their cold storage operations. Automated systems can help companies manage inventory more effectively, reduce labor costs, minimize the risk of product spoilage or damage, and improve product traceability and safety.
WANWEI is one of the world's top third-party logistics cold storage operators based in China. They seek higher storage and operational efficiency. In the new cold storage construction, they adopt 3D pallet shuttle solution as an important part of the temperature-controlled supply chain.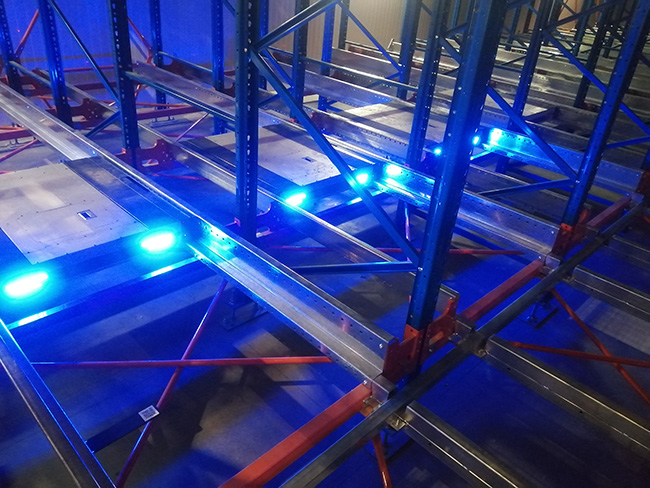 This case covers an area of about 3,350 square meters, with 7,161 pallet spaces, mainly storing frozen food. The storage temperature is -18°C.
SOLUTIONS
3D pallet shuttle * 7: more suitable for storing larger batch sizes and in high performance

applications. They allow for the greatest storage density, thereby optimizing use of space and increasing pick efficiencies.

Lift * 4: transpot the pallet in everywhere in the

Warehouse.
BENEFITS
Storage spaces increased 25%

Save energy 60%

Inventory efficiency increased 100%

Management cost reduction 20%
HIGHLIGHTS
Highlight One: High Density Storage
Integrate the maintenance access of refrigeration and storage equipment.
Separation net for maintenance

Refrigeration maintenance

Improve 25% storage space
Highlight Two: Intelligent Charging System
Charging time < 2 hours; Running time > 8 hours

Automatically optimizes charging tasks to achieve

24*7h continuous operation under unmanned conditions.
Highlight Three: High Speed Doors Synergy
The pallets are linked to the high-speed doors when entering and leaving the cold storage to maintain the temperature inside the storage and save energy