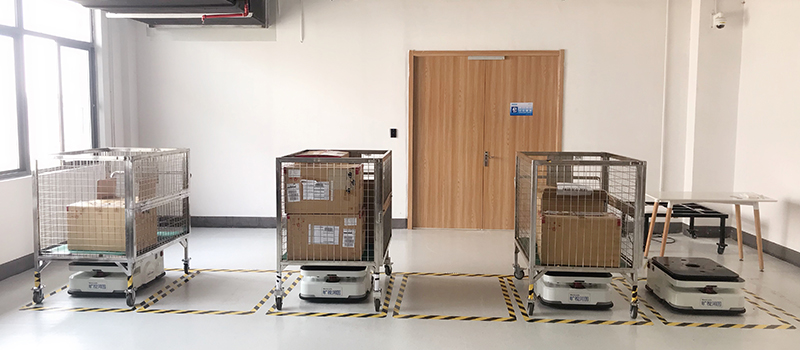 A leading domestic optical communication enterprise is a 100G series ultra-high-speed optoelectronic module production base with international leading technology, which provides important support for the company's layout in the 5G and data center markets.

Due to the needs of business development, the newly built factories need to be transformed into intelligent and unmanned, in order to improve the level of informatization and the intelligent management of supply chain. Traditional manual carts are time-consuming and labor-intensive to transport materials. At the same time, due to the low level of warehouse intelligence, workers cannot know when and what materials are needed in each workshop in a timely manner, resulting in low production efficiency.

According to the characteristics of warehousing and logistics in the 3C electronics industry, Megvii customized a P2P material handling solution and deployed it in the customer's workshop to complete the optimization from intelligent workshop logistics to handling automation. The solution can connect the three processes from raw material workshop to production workshop to finished product workshop through HETU, dispatch SLAM robots with HETU, connect with the customer's MES system, and create an efficient intelligent logistics system for Tongling InnoLight Technology Co., Ltd. At the same time, improve the transportation efficiency.

The content of the solution includes deploying the HETU scheduling system and SLAM robot, connecting with the customer's MES system, and improving the level of warehouse automation and intelligence.
Through this solution, Megvii helps customers realize real-time handling according to their needs, and effectively improves handling efficiency. Among them, material transportation reaches 10 times/shift, and finished product transportation reaches 30 times/shift; at the same time, intermediate manual handling operations are cancelled, helping customers to reduce 10+ warehouse workers, and saving more than 1 million yuan per year.

The scheme dispatches hardware equipment such as SLAM robots through HETU, connects with the customer's MES system to issue workshop requirements, and then performs real-time automatic handling according to the demand of each workshop, shortening the handling time, promoting zero inventory, and ultimately reducing costs and increasing efficiency. It can be said that the plan reflects the openness of HETU, and also provides an example for the intelligent transformation of small warehouses in the 3C electronics industry.