On April 7th, Megvii held a new product launch conference for the 3D Pallet Shuttle System with the theme of "Distributed Reconfiguration - Flexible Leap", and launched its self-developed intelligent 3D Pallet Shuttle System PS1500 series(including normal temperature version and cold storage version). It introduced the application case of "Megvii Hetu" software platform in large-scale four-way pallet shuttle project to solve large-scale cluster scheduling, and shared the innovative application scheme of combining 3D PS with AMR, robotic arm, and visual inventory workstation seeking partners such as system integrators globally.
As a new generation pallet flexible logistics solution, the Megvii Intelligent 3D Pallet Shuttle System has the advantages of high-density storage, strong site adaptability, flexible expansion, and short delivery cycle, which can provide entities automated and intelligent warehousing solutions with a higher return on investment (ROI) ratio.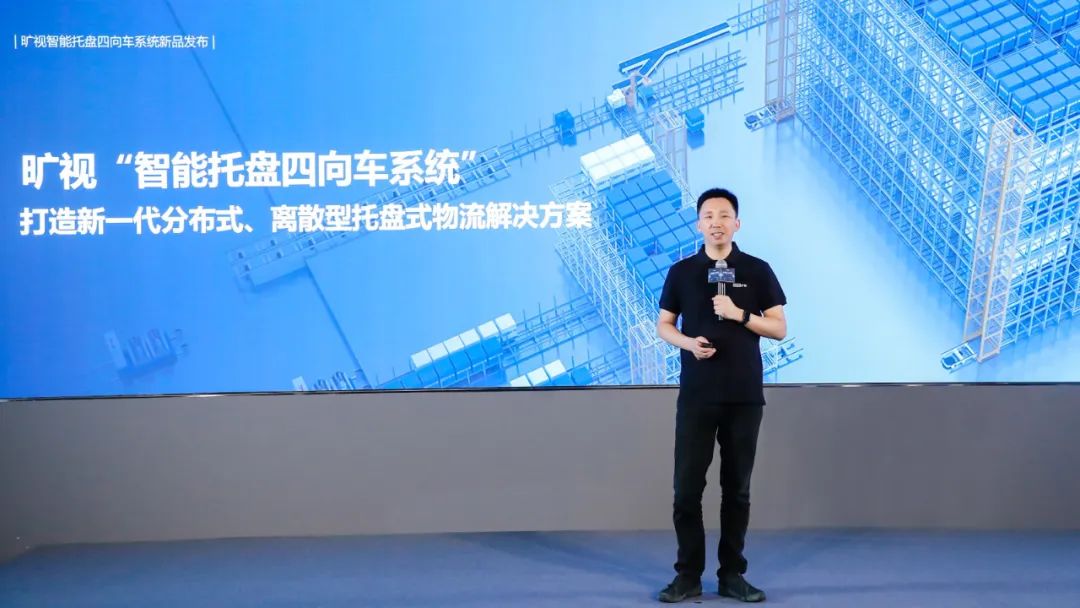 Tang Wenbin, co-founder of Megvii and head of production and research of the Megvii Logistics Business Department, released the Megvii intelligent 3D Pallet Shuttle System
Megvii's emerging 3D Pallet Shuttle System,compared with the stacker solution, can save 65% of electricity and be implemented 50% faster.
In the era of digital economy, physical enterprises are faced with many challenges, such as diverse customer needs, real-time order fulfillment, rapid iteration of business models, labor shortages, rising urban land costs, and rapid growth of their own material categories and stocks amid uncertain global economy. It is an inevitable choice to automate and digitally upgrade factory warehouses and logistics centers.
However, factors such as high implementation difficulty, large investment, high warehouse requirements, and high difficulty in future expansion hinder the further popularization of automated and intelligent warehousing. In this regard, Xu Qingcai, head of the Megvii Logistics Business Department, said: "Logistics system integration is developing towards standardization and modularization, and flexible solutions that have low initial investment costs, and are easy to deploy and expand will benefit more enterprises. , Megvii launched the 3D Pallet Shuttle System, aiming to create a new generation of pallet flexible logistics solutions."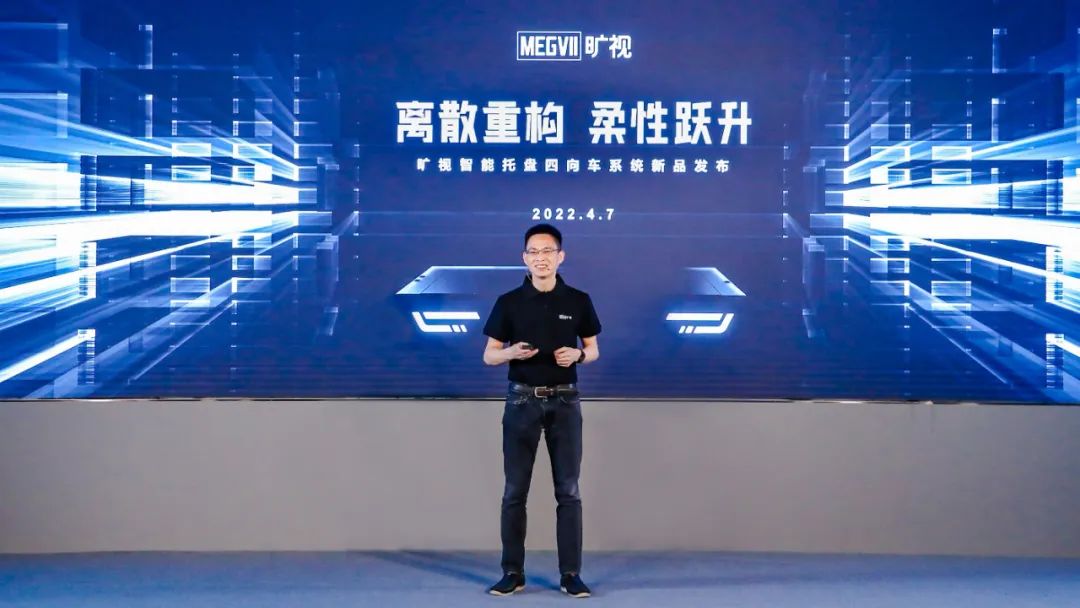 Xu Qingcai, head of Megvii Logistics Business Department, introduced the development trend of the logistics industry
The reason why the 3D Pallet Shuttle System is called "a new generation of pallet flexible logistics solutions" is mainly because it has two characteristics of discrete equipment and distributed control, which can be flexibly combined according to needs like building blocks. Unlike traditional automation equipment that can only work on a fixed path, 3D PS can run the entire warehouse in one vehicle, and can increase or decrease vehicles according to demand changes such as off-peak seasons and business growth.
Fang Dianjun, China Chief Scientist of Fraunhofer Institute for Logistics, Chinese Dean of Sino-German Institute of Intelligent Technology, Professor and Doctoral Supervisor of Tongji University, pointed out, "Compared with traditional pallet solutions, the 3D PS has high flexibility, strong site adaptability, energy saving and environmental protection, large capacity improvement space, etc. Although the earliest technical concept of four-way pallet shuttles originated in Europe, the Chinese market has rich application scenarios. Now, in terms of structural design and intelligent dispatching software, Chinese enterprises are already in the world first tier."
Tang Wenbin introduced a user case of Megvii at the press conference. The user is a raw material manufacturer, which requires 8,000 storage slots and supports 24-hour continuous production in the factory. In the same area, compared with the stacker solution, the space utilization rate of the Megvii 3D PS solution is increased by more than 20%, the pallet cost is saved by more than 40%, the project implementation period is shortened by more than 50%, the electricity cost is saved by more than 65%, and the installed capacity reduced by more than 65%.
Thin, fast and stable hardware, large software cluster scheduling, innovative application scenarios
Megvii builds the triple strength of "hardware + software + application" for 3D PSs
Fang Dianjun said, "When users choose a four-way pallet shuttle solution, they should focus on: first, the solution is a systematic project, and first of all, it is necessary to plan according to their own needs; second, choose mature and stable products; third, it depends on the industrialized design of the product. Thickness is one of the key indicators; Fourth, choose software with strong software capabilities, especially those based on AI algorithms, because software will be more important than hardware in the future; Fifth, choose companies with strong strength and stable development for cooperation. "
These are also the elements that Megvii paid great attention to in building the intelligent 3D Pallet Shuttle System. Specifically, Megvii has created its unique advantages from three aspects: hardware, software and application scenarios.
Stable and reliable intelligent hardware ---MegBot-PS1500
Ultra-thin

: The body is only 125mm thick,

which is one of the thinnest four-way pallet shuttles actually put into use on the market.
Ultra-fast

: no-load commutation time 2.5s, on-load commutation time 3.5s, lift time 2.5s, no-load acceleration 2m/s

2

,

achieving a 30% increase in operating efficiency under comprehensive working conditions.
Ultra-stable

: Based on Megvii's mature robot platform, it is on the same platform as Megvii T series and S series AMRs. The ontology software system, power management system, chip controller, and QR code camera, etc. can be completely reused.

The platform has undergone many AMRs delivery verification.
Ultra-safe

: Obstacle avoidance laser*6 (Leuze, German industrial-grade laser ranging sensor), pallet detector*3 (Panasonic photoelectric switch), lithium iron phosphate battery/lithium titanate battery (cells from CATL/Toshiba) ,

The core components are selected from the head suppliers,

and the quality is strict and guaranteed.
Long battery life

: The battery capacity is 60Ah, the power consumption is 40W, and the charging current is 50A.

1- hour charging

,

8-hour non-stop working.
Megvii self-developed intelligent 3D PS PS1500 normal temperature version
Intelligent software for large cluster scheduling - Megvii Hetu software platform
As a global central control system based on AI technology, Hetu can connect Megvii's own and third-party automated and intelligent logistics equipment to achieve efficient collaboration in cluster operations.
In a benchmarking project in the apparel field, Megvii Hetu can dynamically manage more than 10,000 commodity SKUs and tens of thousands of storage locations, and connect and dispatche more than 80 four-way pallet shuttles in the entire warehouse to achieve efficient case picking.
Innovative Application Scenario - "Megvii 3D PS + X"
Megvii 3D PS+ AMR: 3D PS three-dimensional storage + AMR ground pallet handling, instead of "stacker + conveyor line", more flexibility, greatly improved space utilization, less total investment, and short project implementation period.
Megvii 3D PS + depalletizing robot: 3D PS pallet storage + robotic arm depalletizing to achieve fully unmanned FCL picking; use the same robotic arm for depalletizing and mixed palletizing, and directly complete the delivery of pallets Aggregation; robotic arms can be used to merge pallets with SKUs at night to improve space utilization.
Megvii 3D PS + visual inventory workstation: Based on Megvii computer vision technology, pallet counting and inventory can be carried out; during non-working hours such as nighttime unmanned inventory of the entire warehouse can be operated, achieving accurate counting of incoming boxes and filing photos for easy retrieval check.

Megvii 3D PS innovative application scenario solution
Finally, Tang Wenbin said: "In addition to providing services to end users, Megvii is also looking for partners around the world, hoping to provide our products to system integrators in a sub-warehouse mode and form links with more external systems and creating richer solutions to truly bring value to customers. We will also provide support with good products and services, and look forward to exploring and discussing more innovative solutions with partners."