In recent years, driven by global energy changes and domestic "double carbon" policy, lithium, photovoltaic and other new energy industries have entered a period of rapid development. Taking the lithium industry as an example, which accounts for about 70% of the global production capacity. On the one hand, the strong demand for industry development is forcing lithium enterprises to expand their production capacity. On the other hand, various uncertainties require enterprises to pay more attention to cost control and supply chain security capabilities. All of them are accelerating new energy enterprises to automate and digitalizing the production and logistics.
Integrate the new energy industry and information technology
Promote the high-quality development
In May this year, the Development and Reform Commission and the National Energy Administration jointly issued the "Implementation Plan on Promoting the High-Quality Development of New Energy in the New Era", proposing to promote scientific and technological innovation and industrial upgrading of new energy, as well as supporting for intelligent manufacturing and digital upgrading of the industry, which is to achieve deep integration of the new energy industry with information technology; safeguard the security of the new energy industry chain supply chain, enhance the responsiveness of equipment and material enterprises to changes in industry supply and demand, prevent and control abnormal price fluctuations, and enhance the resilience of the new energy industry chain supply chain.

Megvii sees that the automation transformation of production equipment of new energy enterprises such as lithium raw materials, power batteries or photovoltaic has reached a high level. The enterprises have improved efficiency through process management and lean manufacturing. Currently, Megvii is accelerating the deployment of logistics robots and smart warehouse system, upgrading the smart logistics to further improve process management and delivery capability, which achieves cost reduction and efficiency increase.
Specifically, the main needs of new energy enterprises for smart logistics upgrade of the corresponding products and solutions are.
Stable and efficient to meet continuous production needs.
When expanding capacity, companies have high requirements for project implementation and delivery cycles, timeliness and continuity of operations (supporting 7*24-hour operations). The higher equipment connection accuracy, higher start-up rates, large-scale robot operations, and synergy with different types of equipment have become important factors.
Fast delivery to capture the industry development period.
The customers hope to quickly convert investment into stable production resources. Flexible robots can better meet the needs of new energy companies for efficient and flexible logistics operations, which effectively help enterprises to respond quickly to market changes. While the efficient application of flexible robots requires the support of algorithm capability.
System planning and customized processing based on industry features.
For example, lithium raw material has more chemical composition, high density, higher requirements for equipment safety, reliability, stability. It needs anti-magnetic foreign body processing. Photovoltaic has big size of components, heavy weight (some weigh up to 3 tons per pallet), which has special requirements for the robot, shelves, stacker, forks, etc.
Covering two scenarios: production line and storage
3A Intelligent Solution promotes new energy enterprises
The application of smart logistics solutions in the new energy industry mainly includes production line logistics and warehousing logistics. Megvii can provide flexible and intelligent 3A Intelligent logistics solutions (AS/RS+AMR+AI) for new energy enterprises, including intelligent storage system, robot handling system and smart logistics software platform. It meets the upgrading demand of new energy enterprises for production line logistics and warehousing logistics.
In terms of production line logistics, the automatic flow of materials between different processes in the production line is mainly realized through the AMR system. This scenario requires system intelligence to realize high traffic, multi-task and multi-scene collaborative operations. For example, Megvii has helped Aiko Solar Energy Co.,ltd. deploy 140 SLAM navigation AMRs in its battery production workshop to support over 3 million daily capacity of wafers; Megvii has provided 68 AMRs equipped with multi-sensing fusion technology to a trillion market capitalization lithium head company to realize automated handling and high-precision connection in the pre-production workshop of electric cores.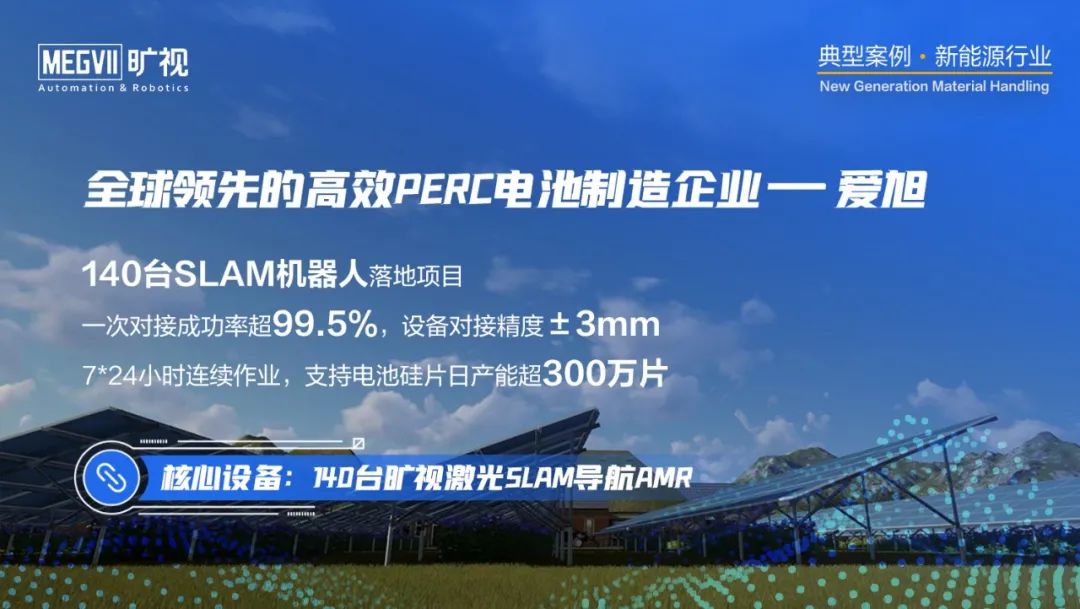 Global leading PERC manufacturer -- Aiko Solar
Lithium head companies
In warehousing logistics, high-density storage and automated operation are mainly realized through automatic system (AS/RS), with 3D pallet shuttle or stacker crane system as the main solution. It involves the cooperative operation with different types of logistics equipment such as AMR, robotic arm, forklift, circular shuttle, air shower equipment and stacker belt. For example, Megvii has won two repurchases from Ganfeng Lithium Group and helped it to switch from stacker crane system to3D pallet shuttle system with better ROI. The second case is Zichen Technology, which has upgraded Liyang factory warehouse with automation based on Megvii's "3D pallet shuttle + AMR + HETU" solution.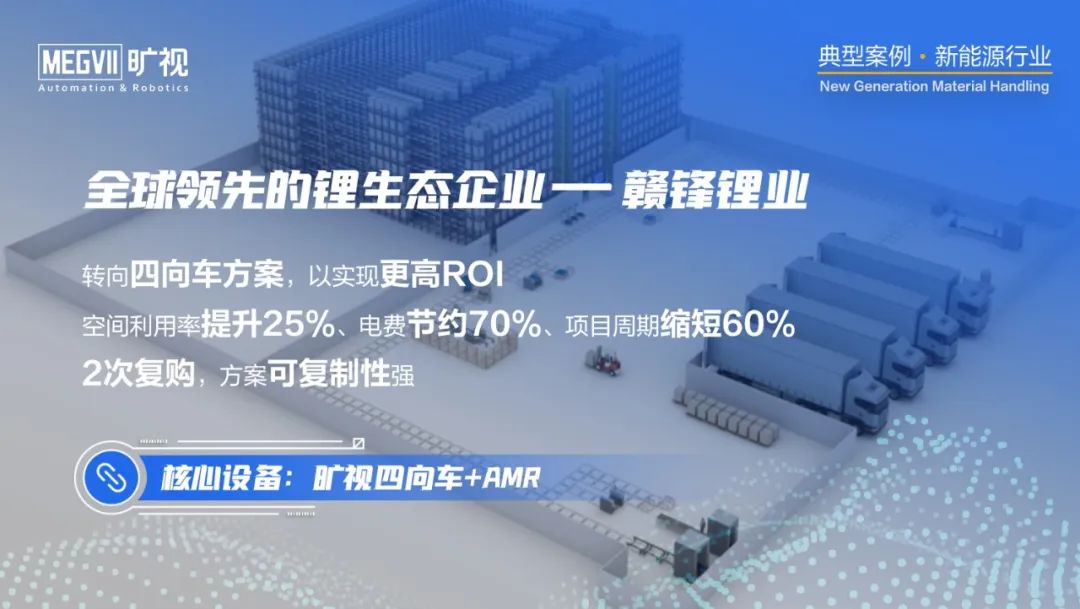 Global leading Lithium eco-companies -- Ganfeng Lithium Group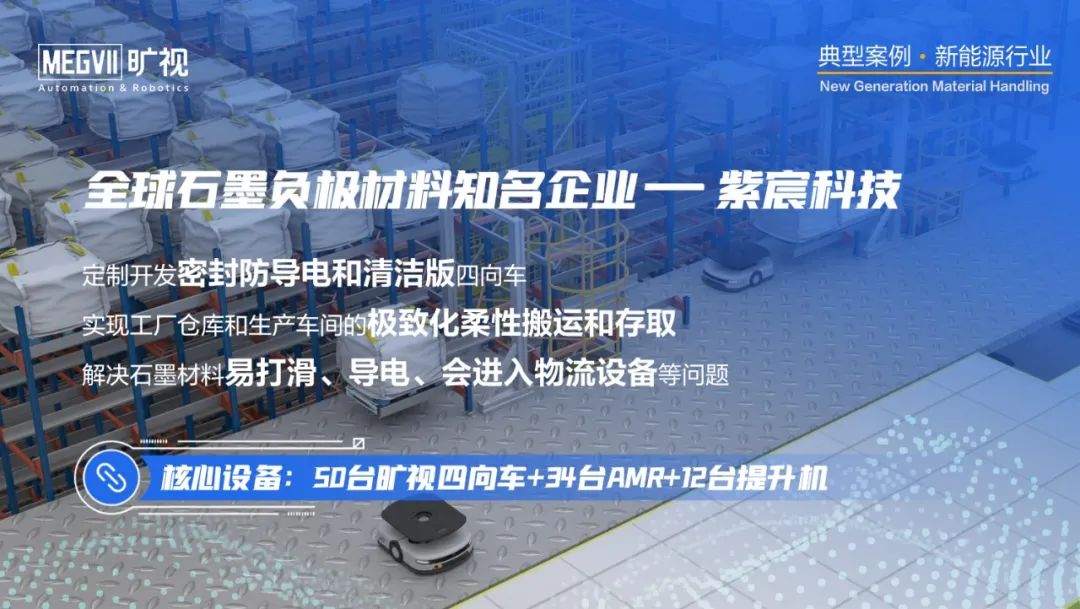 Global famous Graphite Anode Material Company – Zichen Technology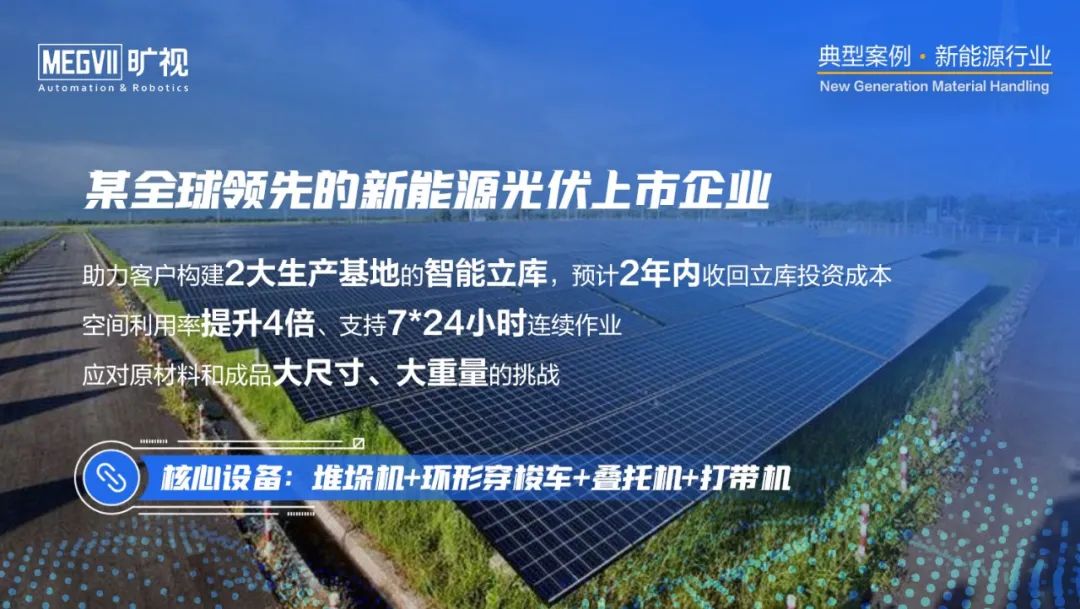 One New Energy PV Listed Companies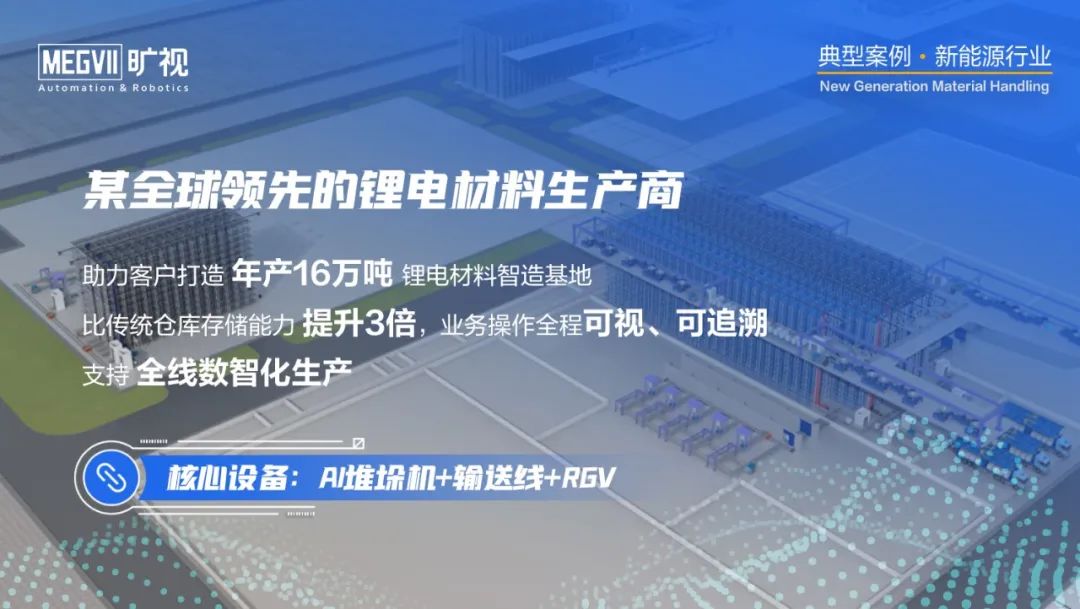 One Global Lithium Material Manufacturer
At present, Megvii has provided intelligent logistics solutions for more than ten new energy enterprises, and will continue to plow into the new energy industry in the future. Megvii hopes to work together with more customers and partners to create a deep integration of AI and automation technology, helping enterprises to upgrade and transform their workshops and warehouses with automation and digital intelligence to achieve quality and efficiency improvement.
To learn more about our experience in building smart warehouses and smart factories in the new energy sector, please feel free to contact us through the following ways.